Picture a parent at a store (online or brick and mortar) comparing skill labels (aka education label) and choosing an education resource based on: cost or ROI, how much it takes to consume, learning preferences (book versus game), or credential earned upon completion - all content shown clearly, concisely on the labels.
If you are an instructional designer, your first step might be to create a skills label. It forces you precisely define a learning expectation and consider all the requirements and parameters.
If you are a teacher or professor, you may create labels for discrete activities, experiences, or projects.
Coming soon...
---
Search that brings up your labels.
Users can click on a link to access your resource.... FREE EXPOSURE
Give our user incentive to use your resource
Skill points!.... FREE PROMOTION
Display / media for your website, app, and printed media.
FREE DISPLAY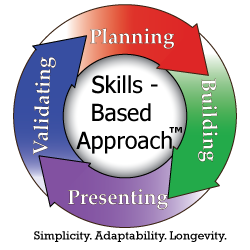 Works with:
Skills-Based Approach